References
Limoges Tourism Information Centre
Dear Mr. Splinter:
On behalf of the Limoges Tourism Information Centre team, I wish to formerly thank you for the invaluable sponsorship of a photocopier for our centre this summer.

Xerox is a symbol of excellent customer service and we appreciated the prompt deliver and service of the company. Your professionalism and willingness to take a chance on our initial year of opening our centre was greatly appreciated.
We greeted more than 6,000 visitors in our season and received only positive comments from our clients. We will be opening the centre next year and we are long forward to reaching more visitors and potentially new services to our service offering.
Once again, thanks to you and Xerox for the support provided and we look forward to doing business with you in the very near future.
Sincerely,
Shirley Racine
Volunteer Limoges Tourism Information Centre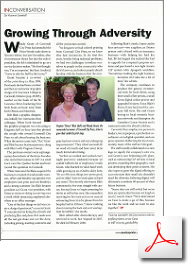 Growing Through Adversity
Wendy Grant of Cornwall City Press had attended the Print World trade show in Toronto before, but last November, after circumstances thrust her into the role of president, she felt intimidate to go as a novice decision-maker. "My first thought was, 'I'm an imposter.' but then I realized, 'I have to take the bull by the horns.'"

Sea Valley Business Solutions is a proud member of the
Cornwall Chamber of Commerce
.
Supporting the Community
Sea Valley and Xerox support the Winchester Memorial Hospital.